« Back to News
With the Spring THAW underway, it's time to UNFREEZE your personal fitness plan and get moving again! Consider a Mt. Prospect Park District fitness membership. We've made every effort to Maximize Your Membership with added Benefits for all.
Here's what you can expect and enjoy with a Fitness, Premier or All In Membership:
Invitation to Member Appreciation Events

Invitation to the Healthy Lecture Series

Giveaways

Equipment Orientation

Use of the Indoor Track

FitnessOn Demand At-Home, free to All In members and discounted for Premier and Fitness members.

Group Fitness included with the All In membership

Discounts on specialty classes, personal training and more!
As your Community Fitness Centers of choice, the District is committed to providing the safest environment with regular and consistent cleaning of all touchpoints, machines, common areas, etc.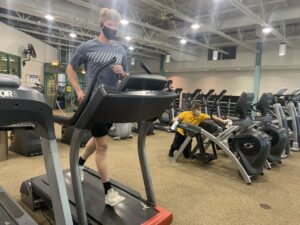 Are you a current fitness member? If so, stop by the front desk for a free gift in the month of March, while supplies last. Ask for a membership folder which outlines all of the new benefits associated with your membership. Ready to make a commitment to a personal trainer? Details on training along with massage service information are contained within the new folders.
 Exceptional Customer Service is an essential benefit of your District membership. Please let us know how we can serve you better. Contact Aquatics & Fitness Manager, Mike Azzaretto, at mazzaretto@mppd.org or call (847) 640-1000 to share your feedback and suggestions.