« Back to News
With Winter's arrival, residents are happy to Let it Snow!  Outdoor recreation is exploding with scores of sledders at Clearwater Park, skaters at the new Golf Club Ice Rink and our four-legged friends prancing through the fluff at Canine Commons. Snowmen have popped up in several neighborhood parks. Paths and trails at Einstein, Friendship and Melas are full of residents embracing the winter sunshine. This winter is starting to feel like a throwback to simpler times and the District is delighted to see children rush outdoors after school to sled, skate and play before the sun sets.
We want to SPREAD THE LOVE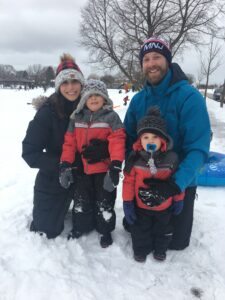 to all of our residents enjoying the Great Outdoors. On Friday, February 12 and Saturday, February 13, staffers will randomly visit our sledding hills, ice rink, dog park and neighborhood parks to pass out individually packed Winter Fun baskets containing sweet seasonal surprises including hot cocoa packets, stickers, lip balm, candy and more! Follow the fun on Facebook and Instagram!
The true beauty of winter lies in its simplicity. Let's join together with our families and discover all that winter at the Mt. Prospect Park District has to offer. Spring is just around the corner with the spring online brochure available Monday, February 8.