« Back to News
Some of our furry friends have found their winter home in 14 of our neighborhood parks. You can search for them thru early January.  CLICK HERE for park listings and coloring sheets.
Don't forget to share your fun with us! Tag us or use the #mpparkdistrict for your social media posts!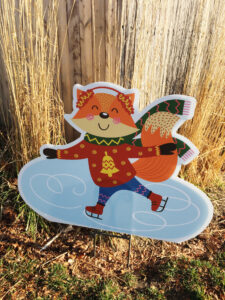 Gather your family; the youngest ones too,
Visit all fourteen parks; not just a few,
Some cute winter friends have found a woodland home,
They are happily settled with no need to roam,
If you choose to visit one park at a time,
A collection of friends you are sure to find,
Where are the penguins, fox, owl and bear?
Can you figure out why each lives there?
Some chose Sunset, Meadows and Clearwater as home,
While others found Busse, Owen and Hill Street to roam,
Look side to side and up and down,
Some are hiding but still want to be found.
They are dressed for winter and cute as can be,
Take a picture, say hello but don't set them free
They have chosen to spend the holiday with us
They are maintenance free and require no fuss,
So find one or find all before Christmas day
Have fun on the hunt as you head out to play.
Happy Holidays dear friends, please accept our gift,
This is for all whose spirits need a lift!