National award winning golf course right here in Mount Prospect! With low square tee boxes, strategic cross bunkers and challenging plateau greens in a quiet parkland setting, it is the closest thing to the conditions and feel of an old private club.
Book a tee time at golfmtprospect.com
Burgers – Brats – Salads – Wraps
Enjoy Great food with a great view 7 days a week (morning through sunset)
Chris & Chris (owners of Mrs. P & Me) look forward to serving YOU!
Check out the menu: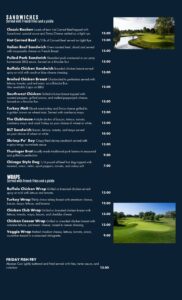 Questions? Call the grill at 224-318-2150
Interested in hosting a special event? Contact Natalie Madonia at eventsmpgc@gmail.com