Jim Jarog
Executive Director
Promoted to Executive Director in February 2019, Jim Jarog has served the Mt. Prospect Park District for almost 35 years. His extensive management experience has enabled him to successfully meet District challenges relative to seven facilities, two outdoor pools and over 30 neighborhood parks. As Executive Director, Jarog oversees a staff of 60 full-time, 38 part-time IMRF and 629 regular part-timers. He also serves on the Board of the Northwest Special Recreation Association (NWSRA).
Jarog previously served as the Director of Parks and Planning, where he was responsible for 450 acres of District grounds and facilities managing maintenance and repair, site development, land acquisition, grant implementation and infrastructure improvement programs. Over his career, he has also been involved with several large scale capital improvement projects including the renovation of the Central Community Center, Meadows Aquatic Center, Mt. Prospect Golf Clubhouse reconstruction as well as the redevelopment of the Mt. Prospect Golf Course.
In 1998 and 2008 Jarog was nominated and awarded the District's "Employee of the Year." He is a 25 year resident of Mount Prospect and dedicated to the District's mission of providing exceptional parks and recreational experiences that enrich the quality of life for present and future generations.
"I am honored and excited to serve as the Executive Director of the Mt. Prospect Park District. I strive to bring positive recreation opportunities to the community while working with a dedicated Park Board and talented staff."
---
Brett Barcel
Director of Golf Operations
Brett Barcel joined the Park District in 1994. His duties include overseeing the daily operation of the District's 18-hole golf course and pro shop as well as managing and coordinating its lesson program, leagues, teams, special events and outings. Additionally Barcel serves as Administrative Representative for District Board meeting and citizen advisory groups. He is also responsible for supervising staff and directing the contract of the golf course's food and beverage vendor for all rentals and food service operations.
With over 20 years of experience in the field, Barcel has been a member of the PGA of America since 1993. He holds a Bachelor of Science degree in Public Administration from Winona State University in Winona, Minnesota. Most recently, he was recognized as a member of the PGA President's Council on Growing the Game. He has been awarded the Illinois PGA Merchandiser of the Year and previously worked as Assistant Pro at Seven Bridges Golf Club in Woodridge and the Village Links of Glen Ellyn.
---
George Giese
Director of Administration
George Giese joined the District in 2013 as the Manager of Administration & Human Resources. Promoted to Superintendent of Business Services in 2017, he was responsible for accounts payable, payroll and other day-to-day business operations.
Promoted to Director of Administration in fall 2020, George recommends and administers policies and procedures for the sound operation of the District's business and technology. He oversees key functions such as purchasing and accounts payable, payroll, registration, information technology, and record retention while supporting financial processes such as budgeting and capital planning. Under the direction of the Executive Director, his position shares responsibility for ensuring compliance with local, state and federal statutes as they apply to Park District business operations. 
George is a graduate of the University of Illinois at Urbana-Champaign and holds a Masters of Public Administration from the University of Colorado-Denver. He has professional experience in four levels of government, including township, federal, city and park district. George's roots in Mount Prospect go back to youth baseball and soccer and he now enjoys Park District programs with his family.
---
Nick Troy
Director of Recreation
Nick Troy joined Mt. Prospect Park District as the Director of Recreation in May 2019. As a Certified Parks and Recreation Professional (CPRP), Nick has over 20 years of experience in Recreation. He graduated from Chicago State University with a degree in Parks and Recreation.
Nick has held similar positions with the Des Plaines Park District, Rolling Meadows Park District and the Village of Hinsdale, along with working in athletics at Schaumburg Park District. He has extensive knowledge of recreation, creating community connections and enjoys thinking creatively with coworkers.
---
Ruth Yueill
Director of Community Relations & Marketing
As the Director of Community Relations & Marketing, Ruth Yueill is responsible for the development and administration of public information, public relations and marketing strategies for all operations of the District. The Director also develops and implements strategies to fulfill the District's mission and promote the organization and its programs through both traditional and electronic media. As the primary liaison to our Community Partners, Yueill is responsible for maintaining community relationships through a variety of partnership opportunities as well as securing district sponsors through connections with the local and regional business community.
Yueill joined the district in 1996 as the Art Studio Coordinator growing the Studio into the area's premiere center for visual arts programming.  In 2012, she accepted a position as the Cultural Arts Manager overseeing all aspects of arts programming as well as organizing district special and community events. In 2015, Yueill was promoted to Director of Community Relations & Marketing.
Yueill is a graduate of Loyola University of Chicago with a BA in Communications and concentrated studies in Business and Professional Communications, Public Relations and Marketing.
Yueill is a 29 year resident of Mount Prospect and an active member of the Women's Professional Group as well as the Mount Prospect Public Relations Group.
---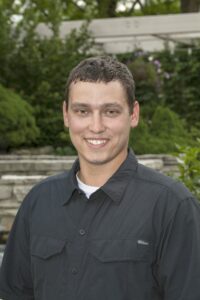 Matt Dziubinski
Director of Parks & Planning
Matt Dziubinski joined the District as a Fleet Services Technician in 2012 and was promoted to Fleet Services Manager in 2016. In 2021, Matt was promoted to Superintendent of Parks & Planning and the Director of Parks & Planning in 2022. 
Matt oversees 56 full and part-time employees in the Buildings, Grounds and Fleet Services Departments. His team is responsible for over 230K square feet of facility space and over 450 acres of owned/leased property.
Matt has over fifteen years of combined maintenance experience in landscape, building and equipment maintenance, repair and replacement. He is passionate about exploring new ideas as they relate to future development, operations and capital planning.
Matt enjoys spending time with his wife Stephanie and young sons, Madden and Ford. He is also a fan of fishing, motorcycles and water sports.
---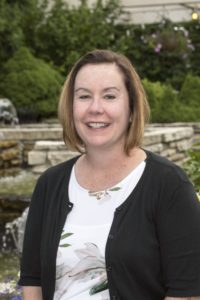 Mary Kiaupa
Human Resources & Risk Manager
Joining the District in 2016, Mary Kiaupa was promoted to the position of Human Resource and Risk Manager in 2018. The position is responsible for administering all aspects of the District's  Human Resources, Training and Risk Management functions. 
In addition, Mary co-chairs the Safety Committee and is an active member of  both the Employee and the Diversity, Equity and Inclusion Committees. Originally inspired by the sense of community within the park district, Mary is motivated daily by her interactions with the diverse and talented staff working hard to create a fun place for community recreation.
Prior to joining the District, Mary worked as a Human Resource Generalist and Recruiter for a Fortune 500 company. She spent many years volunteering at her local church and school while she and her husband managed the busy sports, academic and recreational activities of their children. 
Mary holds a BA in Human Resource Management and Business Minor from Lewis University.   
---
Teri Wirkus
Executive Compliance Officer
Teri Wirkus serves as the Executive Compliance Officer, a position that ensures park district compliance with specific local, state and federal regulations including the Americans with Disabilities (ADA), Freedom of Information (FOIA) and the Open Meeting (OMA) Acts. 
Teri also provides administrative support to the office of the Executive Director. Wirkus acts as liaison for the Park Board of Commissioners, Village of Mount Prospect and community at large. She co-chairs the District's Employee, DEI, and Safety Committees.
Teri entered the District as an  Inclusion Aide for the Northwest Special Recreation Association (NWSRA). In 2006, she accepted the position of  Cultural Arts Manager overseeing the Performing and Visual Art programs as well as the coordination of many District special events.   She was promoted to the Administration team in 2012. 
Teri holds a Bachelor of Science degree from Western Illinois University. She helped establish the River Trails Parks Foundation and is currently involved with the Mt. Prospect Parks Foundation. She is a thirty year resident of Mount Prospect and enjoys spending time with her family in our beautiful District parks.