Hometown Concert Series
Thursdays, 7:30 PM | Veterans Memorial Bandshell (411 S. Maple St.)
Gather friends and family for the best in Thursday evening entertainment! Our free concert series offers something for everyone and begins promptly at 7:30 PM.
June 22 | 7th Heaven
The BAND is back! Our hometown favorites join the celebration with a free concert featuring 30 SONGS in 30 MINUTES! Kick off summer with a rockin' good time!
---
June 29 | Petty Kings
The Petty Kings are one of the best Tom Petty & the Heartbreakers tributes around. Formed in 2016 and based in Chicago, the Petty Kings deliver an authentic recreation of a live TPATH concert.
---
July 6 | Trabuco
Trabuco is an 11 member Latin Salsa Band. The band has over 30 years of experience and have traveled the world! Trabuco is excited to celebrate the diversity of our community.
---
July 13 | Lee DeWyze
As the 2010 winner of American Idol Season 9, Lee made his major label debut with Live It Up. Over the last 13 years, Lee has released five albums including his critically lauded Frames in 2013. In 2016, he released the album Oil and Water which hit number one on the iTunes folk and singer/songwriter chart, followed by Paranoia which hit number one on the Alternative chart.
Lee's songs have appeared in over 70 movies, TV shows and commercials. His last four releases have garnered over 1M streams.
---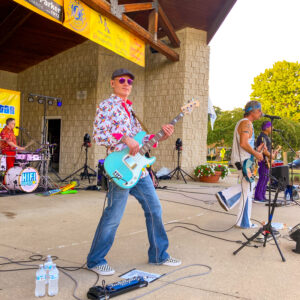 July 20 | Hi-Fi Superstar
HiFi Superstar performs your favorite dance & party rock songs, spanning from the 70's through today. Make new memories to the music that you love. Let's get this party started!
---
July 27 | Billy Elton
Billy Elton celebrates the music of two of the greatest singers, pianists, and songwriters in pop music history – Billy Joel and Elton John. Led by Reid Spears on the piano and lead vocals, this 8-piece band takes you on a timeless journey through the catalogs of these two musical giants.
---
Summer Festival of Music – Community Band Concerts
Mondays, 7:30 PM | Veterans Memorial Bandshell (411 S. Maple St.)
June 19 | Under the Big Top – Celebrating the "Greatest Show on Earth"
June 26 | Portraits and Tributes – Saluting Great Musicians
July 10 | Movies! – Silver Screen Songs and FREE Popcorn
July 17 | Light and Lively – De"Light" in these Happy Tunes!
July 24 | Dancing to Disney – For All Who are Young at Heart. An Encore performance by the Mt. Prospect School of Classical Ballet
July 31 | Encore! – Play it Again and Again!
---
Monday and Thursday night Concerts sponsored by: