Outdoor Ice Rinks
Mt. Prospect Golf Club – 600 S. See-Gwun Avenue, Mount Prospect
Bring your own skates

Freezing temperatures required

Check mppd.org or social media for updates and keep an eye out for a pop up hot cocoa afternoon!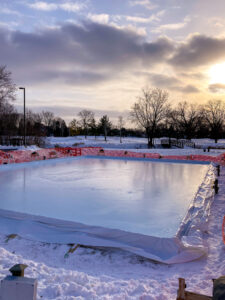 ---
We are certain residents will use the rink in a safe and respectful manner. Here are a few considerations: COURTESY COUNTS
Keep the speed to a pace that is respectful of ALL ages and skating ability.

Take breaks in consideration of the cold temperatures. There is no access to the clubhouse facility. No restrooms are available.

Utilize your own car for a snack break or a chance to warm up!

There are no designated capacity limits but share the ice in order to serve all residents.

No hockey if rink is occupied by individual skaters.

Do not throw any objects onto the rink including snow or snowballs. Objects on the ice can permanently damage the surface.

If conditions (warmer temperatures) are not conducive to skating, please stay off the rink in order to keep the ice even and strong for the optimum skating experience.
Please help us PROTECT OUR PARKS. If you observe any vandalism to the rink or its surroundings, please call 911 to report.
---
Any additional questions? Contact Ruth Yueill at ryueill@mppd.org