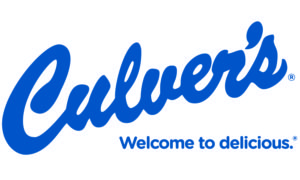 Our mission today is the same as it's always been: that every guest who chooses Culver's leaves happy!
In 1961, George and Ruth Culver seized an opportunity to buy their first restaurant. With no formal training, only Ruth's warm and gracious hospitality and George's natural command of the kitchen, the two proved a great team. With their kids growing up serving guests and learning firsthand about hospitality and delicious food cooked to order, the Culver family's team approach became the model of many successful restaurants and supper clubs to come.
Then in 1984, came an idea for a restaurant no one could resist. Son Craig combined a love for his mom's homemade burgers with his favorite childhood vacation treat, Fresh Frozen Custard, creating our signature combination: Culver's ButterBurgers and Fresh Frozen Custard.
In a sense it was destiny.
Culver's has earned its reputation for deliciousness by cooking every ButterBurger to order and crafting every batch of Fresh Frozen Custard throughout the day, same as we always have. Today, most anyone who's ever eaten at Culver's can vividly recall the first time they bit into a ButterBurger or savored a spoonful of Fresh Frozen Custard. That's how we know we must be doing something right.
As much as we'd like to think it's all about the food, our business is really about people.
As the Culver's have always said, a ButterBurger and Fresh Frozen Custard taste even better when they're served with a smile, a "please" and a "thank you." Hospitality, after all, is something everyone at Culver's holds near and dear to their hearts. Culver's true measure of success has been its ability to instill Ruth's spirit of genuine hospitality across all of our restaurants, along with a commitment to delicious handcrafted meals and desserts inspired by the family farms surrounding the small town where it all began.
Your local Culvers continue that great tradition of community hospitality! Join friends and family to share a meal or custard treat at 2060 East Northwest Highway in Arlington Heights or 1501 Dempster Street in Mount Prospect.
Your proud franchise owner is Chuck Martin. Log onto Culvers.com or call (847) 590-8802 to leave a comment or ask a question.
We look forward to serving you and your family! We take great pride in our restaurant and the community that we serve. Please let us know if there is anything we can do to make your experience better.
---

Located at 1016 East Northwest Highway in Mount Prospect, Novak & Parker has been a partner of the Mt. Prospect Park District for many years and sponsors all District events.  We thank them for their commitment to community!
The Mt. Prospect Parks Foundation thanks Novak & Parker for providing appliances for the renovation of the Friendship Park Conservatory kitchen in spring 2019 funded by the Foundation. Stop in or call Novak & Parker at (847) 259-2550 to get ideas and information for your dream kitchen. Check them out online at novakandparker.com
As an independent dealer we look to market ourselves as a specialty appliance outlet. Our focus is to the residential appliance products. We choose products that are going to be the best possible value for function and quality. We display product in a large but not overwhelming showroom so clients can focus on the products they need. Our staff is knowledgeable and courteous and would love to walk you or client around our showroom where they can see, touch, and feel the products to make the right purchase decision.
SINCE 1913
We have been in business since 1913 and in our third generation of family. We are one of only .5% of businesses that can say they have been established that long. We take great pride of that fact. Since we have been established for so long, we are a financially strong business you can be assured will be here when you need us. We practice responsible business morals and strong ethical behavior to maintain our integrity or you and your clients.
HISTORY
Novak and Parker was founded in 1913 by Joe Novak and Robert Parker. They established their business in an effort to serve their community much like it is established today. Now in its third generation of Novak ownership, unlike
most businesses, we do not feel much has changed. There is still a need for businesses that provide quality goods and services to their community. There were and are always new products and services to embrace. It is our job at serving our community to bring you the best possible products and services our industry has to offer.
Significant Dates
1913 – Novak and Parker established as electrical contractors in downtown Park Ridge, IL
1920's – Novak and Parker establishes a retail presence selling gas and electrical fixtures and introducing major appliances
1938 – 25 years in business
1942 – WWII
1943 – Both Robert Novak and Jimmy Novak enlist to serve their country
1945 – Joe Novak purchases shares from Robert Parker
1962 – Joe Novak sells shares to Robert Novak and Jimmy Novak – 50 years in business
1963 – Robert Novak establishes new store front in Mt. Prospect
1976 – Jimmy Novak Passes
1986 – Novak and Parker retire original location 114 Main St
1988 – 75 years in business
2002 – Dan Novak purchases shares from Robert Novak (third generation Novak)
2008 – Novak and Parker does major building renovation
2014 – 100 years and three generations of family ownership!